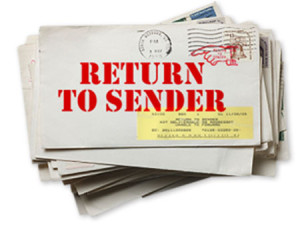 Fully automate, integrate and resolve customer accounts that are returned by the USPS as Undeliverable-as-Addressed.
Industry averages that 2-6% of all mailed bills and other critical customer communications are deemed undeliverable by the USPS. OneSource's Returned Mail Solution (RMS), goes way beyond NCOA processing to ensure we locate your customers and make sure they receive your bill or important document.
RMS is:
The most automated, integrated solution available in the United States to manage the issue of undeliverable mail.
A fully integrated solution, incorporating physical document capture, proprietary Address Management Software, data workflow and process automation that more efficiently manages the issue and the required resolution.
All about locating your customer and providing billing, collections and customer service with payments and valuable information.
Customers Benefit by:
Reducing volume of returned mail customer accounts to collections.
Reducing collections fees associated with returned mail accounts.
Increasing and accelerating AR by receiving payments faster and at a higher rate.
Realizing net financial savings of $500,000+ on average annually.
Reducing expense of the returned mail process by up to 70%.
Improve deliverability by updating up to 80% of bad addresses.
Centralize and automate fragmented manual processes from weeks to days.
Flexibility and speed of integration.
Click here to request a FREE analysis on how much RMS can save your company!